Interactive Virtual Tours
Here I show Interactive Virtual Tours where you control the tour enabling you to move the view around and move from place to place to explore. Note: As this page contains 3 virtual tours it may take a few moments to load…
| | |
| --- | --- |
| Using the interactive tour: | Click on the small targets to move from view to view. |
| These views will automatically start panning once loaded. Or you can use the buttons shown. Or you can click on the image and drag the mouse to pan around the view and zoom with the mouse wheel. | Hotspots (clickable targets) link the views together. Simple text information boxes can be shown when the cursor moves over different parts of the scenes, and there are some soundtracks. |
| The square control icon on the right shows the image in full screen mode | In some, soundtracks have been added, panoramas linked together with 'hotspots' (clickable areas) or hotspots may be linked to other areas of the website. |
Virtual tours for a Wildlife Trust:
These are for where I work as a volunteer for Staffordshire Wildlife Trust, my role being to create Interactive Virtual Tours for the 'Transforming The Trent Valley' project. The tours were created with different audiences in mind and to satisfy different, often conflicting, requirements so compromises had to be made. Below I list a few of these:
The tours must be informative and accessible to those who are unable to visit the locations – these people could use a range of equipment such as laptops, desktops computers or tablet devices.
The tours must be useful on location so they act as a guide – this means they must be small for prompt downloads often in locations with poor mobile connections. Obviously this means they would be viewed on smartphones which may be in either landscape or portrait mode. This has showed some limitations of the current technologies!
The tours need photo galleries to show more than just a view. These galleries must be easy to maintain as we want to encourage people to submit their own images. We also have a team of photographic volunteers to help – their photos must show the name of the photographer.
Here is a link to the first tour (this will open their website in a new tab): Tucklesholme Nature Reserve. I have created this tour, provided the main tour images, and some of the photo gallery images. The tour start page looks like this: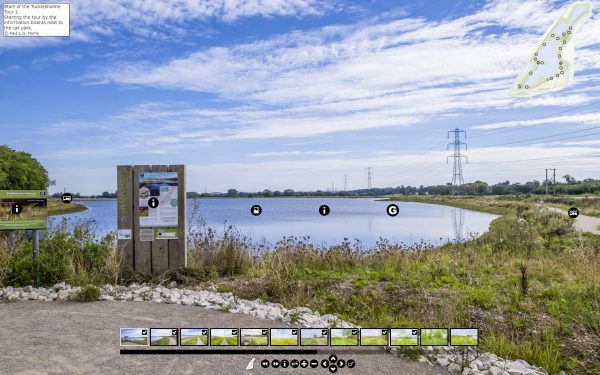 Below is a small, interactive tour through time and space in the garden at a smallholding where we lived in for 10 years:
These views were taken at different times of the year and at different places within the grounds to show the scope of this kind of tour. This is a basic tour based on 10 panoramic images including two full 360 degree views and one full 360 x 180 degree view (all the way round, up and down). Some of the views include text and audio.
Nearscape Panoramas:
The houseplant Nearscape (below) is based on a single full 360 degree panorama taken with a compact camera on a home-made panorama mount. The image was stitched from 14 separate photos:
This indoor view of a conservatory (below) is a single full sphere (360×180 degree) panorama was taken with a basic 'sphere' camera that takes the full panorama in one go. This means you can view up and down as well as side to side.
What next?
Interested? Questions? Not sure? Feel free to discuss with me your requirements or if you have any questions. Either contact me via this website (email). Or call me on 07881 784 259 to discuss how I can help.